CalPhos Nutrient Solution
CalPhos nutrient solution for your garden. This is a new thing for me, so new I haven't even tried it yet. A very talented and lovely grower, Nadia Danti who manages Fat Pig Farm's market garden shared this receipe and photos with me recently after I visited her and I think every keen grower needs to know about it.
In the words of The Unconventional Farmer… 
.
CalPhos  is a nutrient solution for plants just entering the flowering cycle. There is an overlapping activity of Phosporous and Potassium during flowering. In natural farming, we apply calphos before the flower initiation to support the eventual fruit. In simplistic terms, we use Phosphorous to address the root system, which will enable the plant to access better water and nutrients from the soil to support the critical changeover as manifested by flower initiation. We use Calcium to strengthen the plant in preparation for heavy flowers/fruits. Thus, natural farming emphasizes Phosphorus and Calcium during the changeover period from growing to flowering/fruiting, and this provides for that need.
There's always so much to learn isn't there! Nadia shared her recipe with me (and you), so you too can make your own out of ingredients you probably already have in your kitchen – it's that easy.
Step 1
Gather eggshells. Usually chicken eggs are used, but you could also use oyster shells or bones – anything with high levels of calcium.
Step 2
Roughly grind them up in a mortar and pestle, or the bottom of a cup in a large bowl.
Step 3
Toast the shells in your fry pan or on the bbq until some of the shells start turning black. The charred black shells are the phosphorus and white/brown shells are the calcium.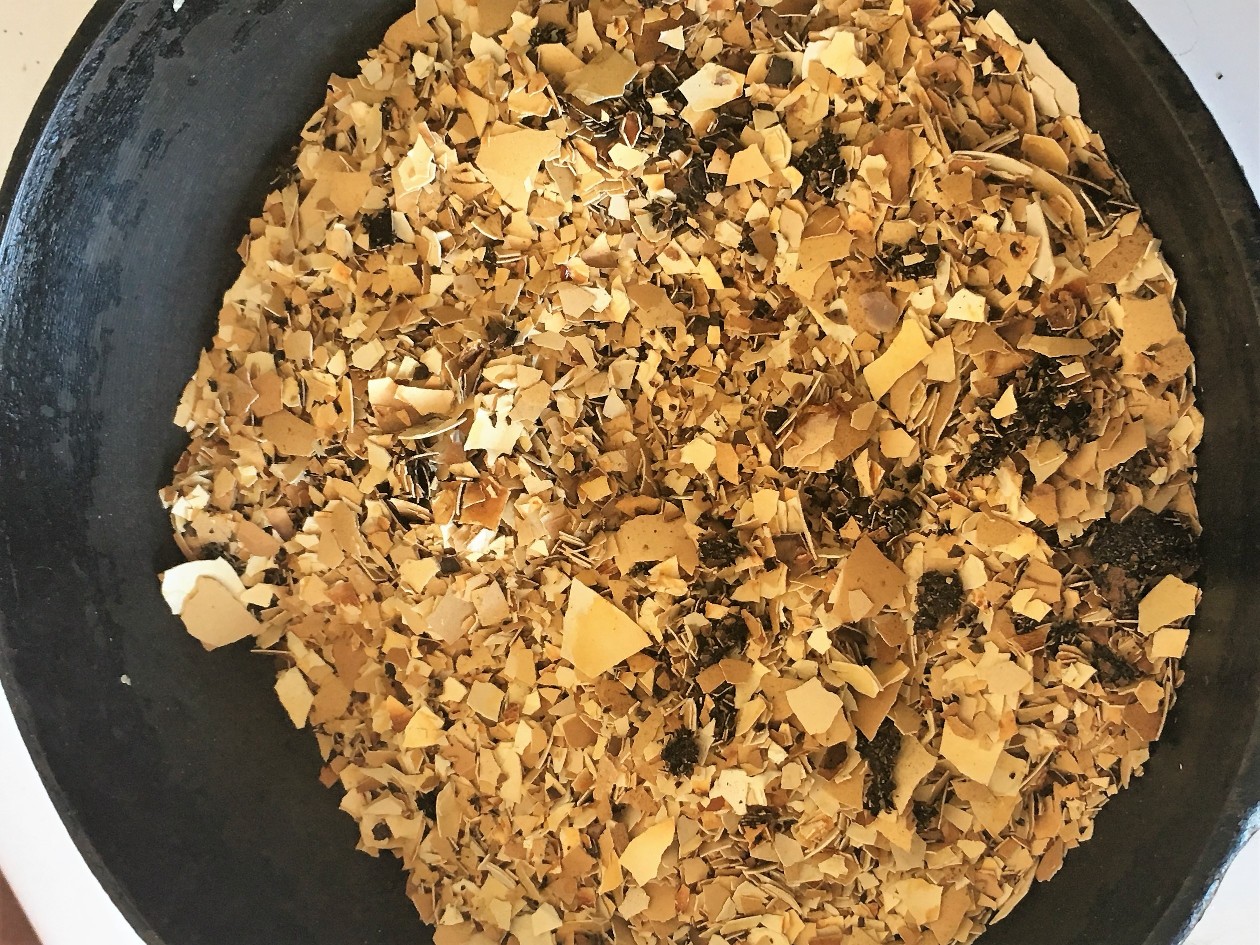 Step 4
Put shells into a glass jar along with apple cide vinegar, 1 parts shells to 5 parts vinegar.
Step 5
The mix will start to bubble (this is a good thing), once this stops, seal the jar and leave it to ferment for 20 days.
Step 6
After 20 days, strain and filter the liquid.
Step 7
Use on your flowering/fruiting plants! 1 tbs calphos to 4L of water.
In a world where the general approach to growing food is to spray it with this, that and everything (think chemical fertilisers), useful tools like this one that ensure optimum plant health and nutritioun levels are gold – solid gold!
Want to know more? Have a good rummage around The Unconvetional Farmer's website for some highly useful info!