Four Ways To Manage Codling Moth – Naturally!
Last year we had a small amount of codling moth (Laspeyresia (Cydia) pomonella) on our young apples for the first time. Bummer. There were tears.
Unfortunately even if your trees are healthy, if there's any codling moth in the immediate neighbourhood it's only a matter of time before they find their ways to your apple trees. This season I'm ready and have just applied the methods below to managing coddling moth. Here they are.
But first: Their lifecycle
Understanding their lifecycle will help you manage them…
First, tiny eggs are laid on leaves after dusk, this starts to happen once night time temperatures reach 15 degrees or higher.
Eggs hatch after around 10 days, they feed on leaves then eventually move into fruit where they'll chew their way into the core and eat for 3 – 5 weeks.
Once they're full, they leave the fruit and move down the trunk, looking for a loose crevice to make a cocoon. This is usually under loose bark or in the ground directly near the base of the trunk.
It'll then metamorphosis into an adult moth which will then flies at night to mate and repeat the cycle.
In cooler areas the moth will have two productive cycles each season, while it warmer areas they'll have three. So you have to manage the moth throughout the whole season to catch them in these cycles.
1. Trunk Trap
Wrap hessian cloth or corrugated cardboard around the base of the trunk to trap any caterpillars looking for a place to pupate. They love hanging out in those cardboard corrugations – inspect every three weeks to see if there are any cocooned caterpillars and destroy them. Then replace with a new collar.

2. Pheromone Trap
There are a range of pheromone traps you can use for codling moth. A pheromone is a secreted or excreted chemical factor that triggers a social response in members of the same species, in this case it mimics a "mating smell" (not the technical term) and attracts the codling moth directly to it.
This is the one my local nursery happened to have. How does it work? The codling moth are attracted by the manufactured pheromone lure, they enter the trap and are caught on the non drying glue inside the trap. The glue insert can later be removed for inspection and replacement.
Above: The pheromone trap with the little lure in the middle -which comes in the below packet below. The lure sits on sticky non-drying glue which traps the codling moth. 
The only challenging thing with the pheromone trap is the price. These kits range from $30 – $50,  so not an option for everyone, and honestly our trees are too young to even produce that amount of fruit. I just panicked bought it when I didn't think there was another options…
But then I researched some DIY methods which, while quite different to the above (not pheromone based), can still trap codling moth. Like this one from Utah State University Extension where you mix water, molasses and yeast together in a bucket. Apparently the codling moth is attracted to the smell, dives in, gets stuck, dies and your apples live happily ever after.
3. Beneficial plants that attract insects that eat codling moth
Include strategic plants in your orchard which attract beneficial insects that eat codling moth. These plants include clover, queen annes lace, dill and fennel.
These beneficial insects I'm referring to are the Trichogramma – a minute wasp, less than 0.5 mm long. The adult female lays her eggs *into* the codling moth eggs (wow). There are also a number of other number of wasps, night flying birds, tree frogs and small bats that can eat codling moth. So the more diverse plants you have integrated into your orchard, the better. You might be interested in checking out edible forest gardens to learn more.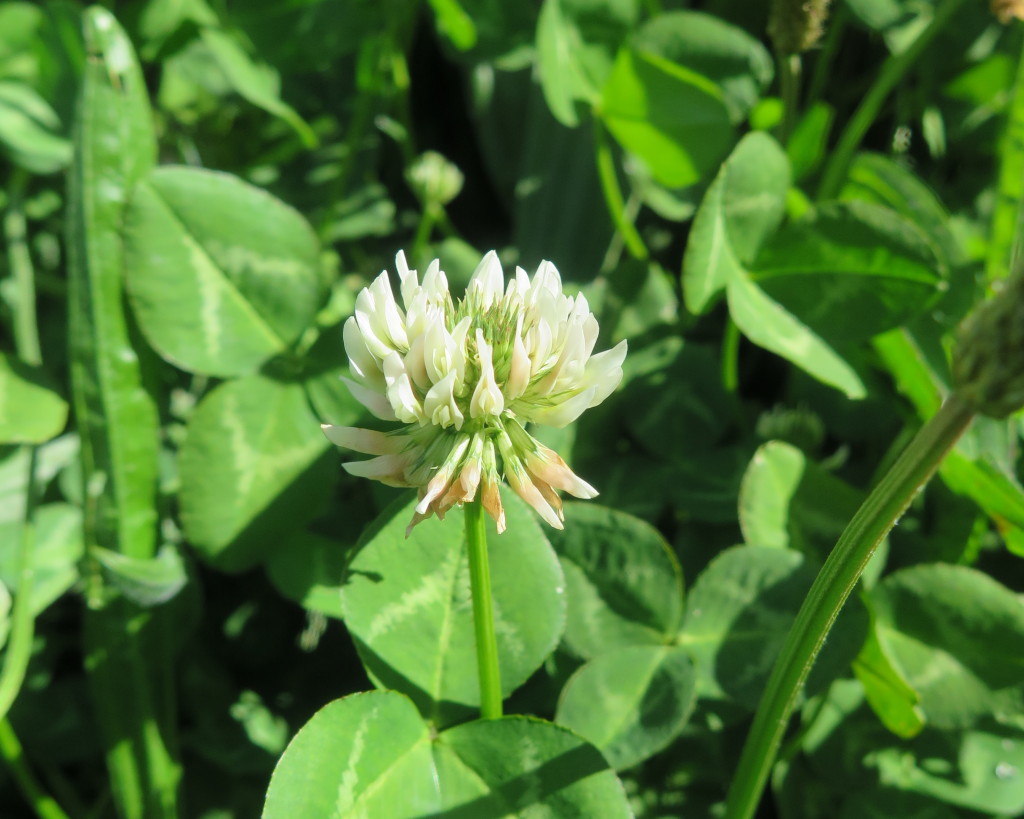 White clover in flower
4. Horticultural glues
People also use a type of "horticultural glue" at the base of the trunk to prevent some of the female moths from crawling/fluttering up the trunk of the tree. It'll also stop ants and other crawling insects you don't want in your trees.
Put masking tape on the trunk first, then apply a very thin layer of the glue on top of that (with anything but your fingers – it's real sticky). The codling moth get stuck on there as they try to walk up the trunk. You need to replace it every 2 – 3 months.
Importantly, you can't use vaseline. Me being me, I researched all the DIY options. Vaseline popped up again and again as an alternative to commercial glues – so I tried it. But it doesn't last more than a few days, at which point codling moths, caterpillars, ants etc will happily crawl over it. So don't waste your time there. I bought a 500g tub of natural horticultural glue from nursery for around $13 – the tub will last for years and it will work .
EDIT: Also importantly – If you're in Victoria Australia, the Agriculture Department specifies that all glue traps used for insect capture must have some time of barrier/cage/fence around them to prevent any animals coming into contact with them. This is in the spirit of animal welfare. You can read more about this on their website here. 
Horticultural glue on top of the masking tape. You'll notice the trunk appears "shiny" – that's remnant vaseline that I trialled (not the hort glue) – the vaseline will come off gradually. 
Be mindful that…
You have to do more than one method to ensure success. The one thing everyone I ask agrees on is that you HAVE to do more than one method if you want success in managing codling moth.

Other things to note
Never leave fruit on the ground – it'll rot and provide food for the codling moth. Keep your orchard clean.
If possible, run your poultry through the orchard, they'll eat any rotting fruit and any codling moth that happens to be in the top layers of the soil.
Sheet mulching around your trees can also help slow codling moth coming out of the ground as it create one extra barrier it has to break through.
Resources