Home Harvest 2022
March 5 @ 10:00 am

-

3:00 pm
ONE DAY, 18 EDIBLE URBAN GARDENS & YOU!
We're thrilled to announce we're working with Eat Well Tasmania and Sustainable Living Tasmania to hold our third annual "Home Harvest" garden tour in the Hobart region!  Special thanks to the City of Hobart for funding this great initiative.
Home Harvest is a one day event this Saturday March 5th, running across Hobart where productive gardens open their gates to the public so they can look, learn and get inspired to grow some of their own food.  Urban food production can happen anywhere and anytime. Whether you have a tiny courtyard, a sprawling backyard, are in a rental house or a family home; food gardening can be included to help build household resilience and personal health and wellbeing. Want to know more? You can watch this clip from last year's event. 
Bookings are essential!
Below are a list of the gardens featured in Home Harvest. At the bottom of the page you can book into the gardens you're keen to see. You'll then receive a ticket which secures you a place.
What are the opening hours?
Most gardens will be open from 10am – 3pm. HOWEVER, a few gardens are only open at select times. Please take note of the ticket options which will provide this detail.
Garden addresses
You will receive the addresses for each garden with your ticket, plus any other relevant information for each site.
Looking after our community – COVID considerations
Different gardens have different limits on visitor numbers in keeping with COVID-19 guidelines. It is essential that you stick to the time you selected on your ticket.
Each garden will have sanitiser and a visitor register at the entry. We want you to get inspired and stay well!
Tickets
Take a note of the gardens you wish to visit below, then follow this link to book! Places are limited, and you will need to stick to ticket time you select. If you can no longer join us, please cancel your booking to make the ticket available to someone else.
Dogs
Please note, no dogs are allowed to any of the gardens. Thanks for your understanding.
THE GARDENS
France's Garden: West Hobart
10am – 3pm
In my 70 sqm rented garden I'm building an urban food forest using mainly pots and planter boxes. I'm concentrating on small fruits (berries, cherries etc), herbs and plants for tea making, and a variety of vegetables including edible 'weeds' and natives. In between there's a worm bath, compost, pond, flowers for fragrance, colour and eating, plus the essential  hammock.
St Mark's Food Garden, Bellerive
10am – 3pm
A community food garden established in Sept 2020 to grow fresh produce to support overseas students. The garden is in transition phase now, with the vision to support Salvo's Doorways program as well as individuals who wish to come along and help and learn. We have many dug garden beds and 3 raised garden beds, with an overhead watering system in place. We have some fruit trees and grow a large variety of vegetables. Our composting system has been productive also, providing much needed organic matter and nutrients to our sandy soil.
Danielle and Dave's Garden: South Hobart
11am – 2pm
Our edible garden is located in our large backyard and includes veggies and fruit. It takes up around half of our 1/4 acre block. We're working to get continuity of veggie crops through all the seasons and protect them from the possums!
.
OUT OF THE BOX – Earth Arts Rights Patch: Mount Nelson
Open from 10am – 3pm
We have a large patch with two glasshouses, 12 raised boxes set up as wicking beds and seven chickens and 2 beehives. We are four friends on a shared property. Our Not for Profit, OUTSIDE THE BOX – Earth Arts Rights was formed to connect, amplify, nurture and support people working at the intersection of environmental protection, the arts and social justice.
Louisa's Garden: Blackmans Bay
12pm – 2pm
I have an acre of land on the top of the hill in Blackmans bay, it is home to a couple of stands of protected white peppermint on sandstone communities so it is kind of bushy, but has a very old oak tree too. I have a pretty flower garden behind the oak and a productive zone on the other side of the house. Where my chickens and worms live. I have a number of growing areas, an official vege patch, fruit trees, herb patch and an accidental food forest which has sprung up under and around citrus on the north facing side of the house. We've been slowly swapping out non food growing things .. Green hedges for example, for productive ones- ie, cumquat hedges! In our bush and other zones our focus has been on bringing in bees and shade to create a more sensible and sustainable 1960s home.
Kylie's Garden: Warrane
10am – 1pm
In the last 5 years, I have transformed most of our backyard lawn into garden beds, where I grow seasonal fruits and vegetables, berries, fruit trees and flowers. We have 4 chickens, a worm farm, compost bins and are in the process of getting bees. It is a thriving space that is home to many birds, bees + butterflies.
Holley's Garden: South Hobart
10am – 3pm
My garden is about half of my 900 square meter block. I started it in July 2020 and it's gone from an overgrown weed infested wasteland to a reasonably productive veggie patch plus some fruit trees. I'm a total novice so it's all trial and error.
.
Good Life Permaculture: South Hobart
Open 10am – 1pm
Good Life Permaculture's garden is spread across approximately 3/4 acre less than 2.7kms from Hobart City. It includes two milking goats (Gerty and Jilly), chickens, honey bees, compost systems, veggie garden and large orchards. This garden is on a very, very steep property, so working with slope has been a key design consideration.
Please note, the only access to this garden is via a very steep, uneven 100m staircase. 
Sulyn's Garden: South Hobart
Open 10am – 2pm
Sulyn's Garden is tricky to squeeze into one photograph because it flows like a river around the house and down a disappearing slope. Chickens and goats forage in the lower section. There are tomatoes cavorting in the warmth of a hoop tunnel and cucumbers climbing in the front garden.
Winter plans are afoot under mini season-extension tunnels and elsewhere are fruit trees, grape vines, citrus, and a profusion of herbs that supply local restaurants.
There will be some home-grown seeds for sale on the day, spigariello in particular.
Gaby's House: South Hobart
Open 10am – 3pm
"My garden is mainly a food productive garden, I have fruit trees, berries, a large asparagus bed, composting and worm bins. I like to experiment with food plants that are not normally grown like sweet potatoes, purslane, some indigenous plants , some edible weeds. I grow lots of herbs that I cut and supply a market stall with. I have oregano, marjoram, curry leaf, several thymes, chives, mints etc. Also have a small hothouse where I grow a small banana plant, pineapple and some date plant seedlings for fun."
Please note: Proof of Covid vaccinations is compulsory to visit this garden. Visitors need to wear flat shoes and be surefooted as the property is steep and uneven.
Belinda's House: Dynnyrne
Open 10am – 1pm
A 600m2 fenced & netted food jungle. Ducks, chooks, 40+ fruit trees, nuts, berries, veggies, avocados, herbs & bees!
.
The property is on a steeply sloping block, and is accessed by walking up a steep driveway.
Source Community Wholefoods: Sandy Bay
Open 10am – 2pm (public community garden)
Source began in 2008 on the Sandy Bay campus of the University of Tasmania when a team of sustainability-minded volunteers helped to turn a weedy and abandoned ravine into a thriving space that includes a strawbale and timber building that houses a cafe, workshop and meeting space – all surrounded by a thriving community garden. We are a member owned urban eco-collective.
Guided by permaculture ethics and principles, our garden features; terraced garden beds (with removable poly tunnels), a small orchard, worm farms, hot composting, a herb spiral, compost tea production and more.
Lissa's Garden: South Hobart
10am – 2pm
My largish suburban block started as a blank canvas about 14 years ago, but is now home to over 60 fruit and nut trees, berries and vines; a large veggie patch with annual and perennial plantings; chickens; bees and Shasta, the lovely dog who protects it all from getting too munched.  It's a pretty wild, rambling, colourful, bountiful oasis, wtih very few straight lines or flat spaces.
Gemma's Garden: South Hobart
10am – 1pm
Our garden is large and is a mix of netted vegetables and fruit trees as well as more integrated edibles with Australian natives. We have a pond with fish and lovely chickens which help complete our garden's energy cycle. Our garden is only three years old and we hope to keep growing it over time. We love our garden!
Jess and George's Garden: West Moonah
10am – 2pm
A large backyard and front garden on a decent slope. Terraced vegetable garden, young fruit trees, bushes and vines, flowers and chickens.  We only started establishing August 2020 and it's already pumping out so much food, flowers and happiness!
.
Dusty's Garden: Lenah Valley
10am – 12:30pm
The garden space is multi-purpose, permaculture-inspired and productive. Built on a slope, we've done some interesting raised beds which also help stabilise the slope.
It's somewhere where I go to relax, think and be creative in my own way. My little haven in a suburban lot.
.
Amber's Garden: Glenorchy
10am – 3pm
When I moved in just over 3 years ago there were absolutely no insects on the property, now it hums with life. I have a smallish block but I grow a huge range of fruit/nut trees and allllll the veggies! I also have chickens (mini pekins), too many roses, lots of flowers and parsnips self seeded everywhere. It's a bit of a food forest.
.
Aimee's Garden: New Town
10am – 3pm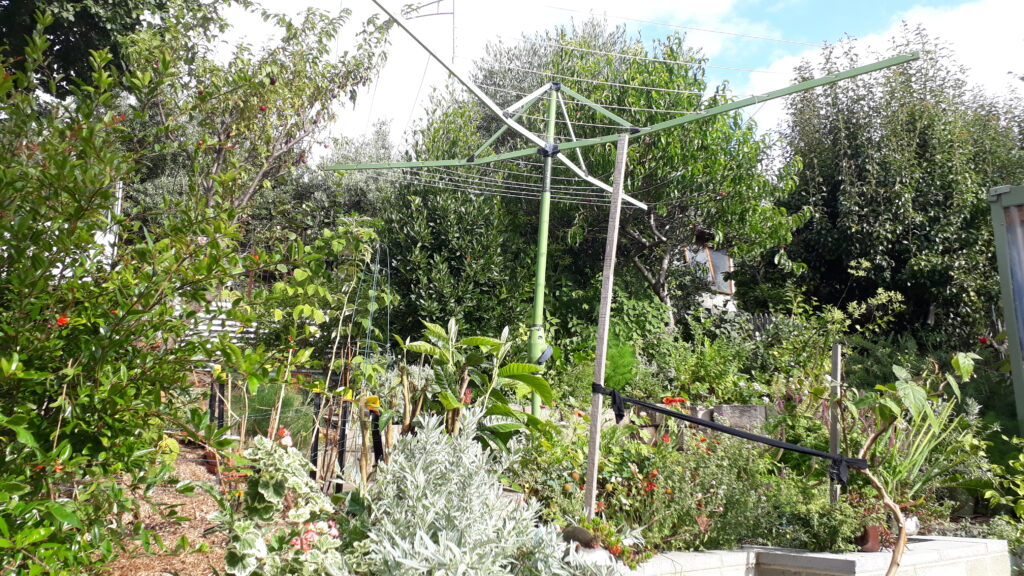 A small suburban backyard make-over, still in progress (like all good gardens), and we have a recycled glasshouse, worm farms – for food and pet waste, compost, forty different fruit trees, shrubs, canes or vines, over forty different herbs, and a very relaxed potager-like style of veggies and flowers of all kinds. No lawn, less waste, amazing biodiversity in insect and bird life and most importantly of all, a backyard that meets both our needs and our wants. Come and see how 3 humans, 4 chickens, 1 dog and 2 cats can live gently and well in suburbia!
.
Take a note of the gardens you wish to visit above, then follow this link to book! Places are limited, and you will need to stick to ticket time you select. If you can no longer join us, please cancel your booking to make the ticket available to someone else.