Landscape Design
Permaculture design that creates resilient and regenerative landscapes and lives.
Please note, we book out months in advance. To avoid disappointment, book now to secure your place.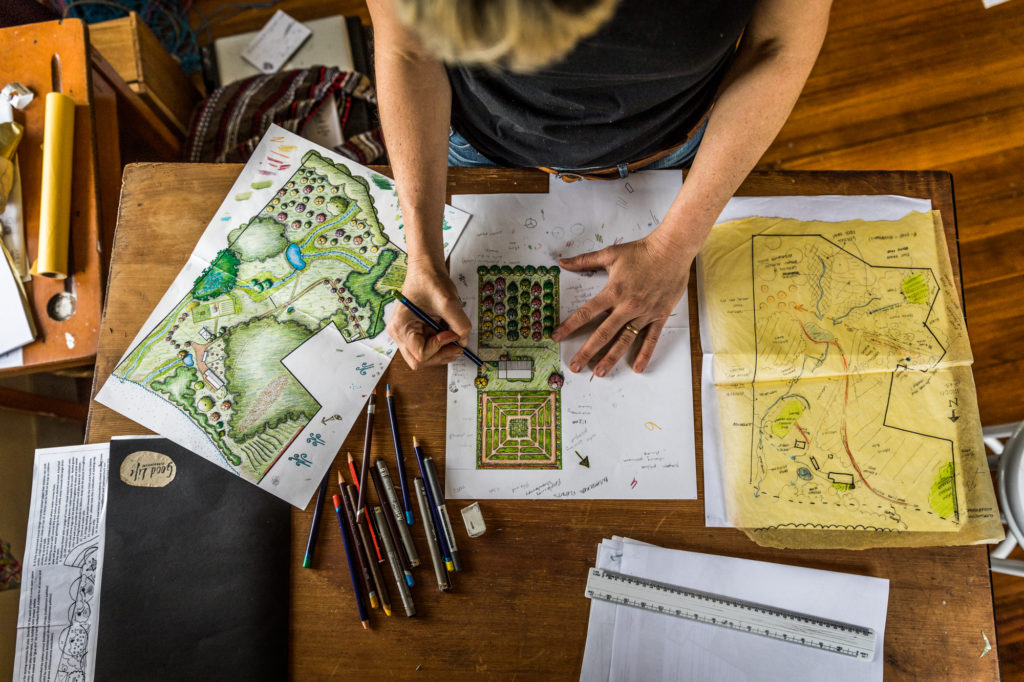 Our design process
For every design we complete the following
A detailed, coloured hand drawn design concept in "plan view".
A brief design report including:

A vision statement which encapsulates your dreams and aspirations for your property,
A list of networks, organisations and relevant businesses to source information, skills and resources from,
Site analysis details outlining slope, aspect, prevailing winds (and more),
Plant lists and planting plan, and
An overview of basic soil remediation approaches relevant to your landscape.
For an additional fee, we can offer the following services
A detailed water and irrigation plan.
Site survey (with a third party surveyor).
Soil testing and analysis for both heavy metals and minerals.
Renewable energy design for your home.
Upon request, we collaborate with architects at Designful to design both your house and landscape to create the ultimate, integrated home.
What's the process?
Residents complete a pre-visit questionnaire via email, this provides us with good insight into you, your lifestyle and home.
We develop a scaled base map. Please note unless you have a professional survey this will be approximate only – but darn close.  If you have existing property plans we can use these as part of this process. While onsite we will make needed measurements and adjustments as needed.
A 2 – 4 hour site visit takes place which includes;
Approximately 1 hour meeting with residents,
1 – 4 hour solo walk to conduct site assessment and analysis,
40mts – discuss concept ideas and possibilities and options and agree on the design direction.
Offsite, we create one black and white draft concept sketch and provide this to the clients via email for feedback which informs the final design. Please note, this is restricted to only one design sketch.
We have a second site meeting or online meeting to discuss the draft.
We develop a final concept design, send it via email and talk you through it over the phone (or email) to ensure you understand everything. If we are in the same geographical region a site visit may be arranged for this final meeting.
If appropriate and required, we organise follow up phone meetings to provide insight and clarification into the design. Please note, this is not an open ended offer, an agreed time frame (or amount of meetings) will be provided.
We also post you a hardcopy of the design and report on completion of the job.
Design fee
To organise a quote for your property contact us today. In this quote we'll provide clear details so you can see the fee for each stage and/or item of the design process.
Travel free: $50 per hour to get to and from your site outside the Hobart municipality.
Design implementation
We work with a range of wonderfully skilled landscape contractor who can implement your garden for you. If interested, ask us for more information.
Case studies
Don't just take our word for what we can do for you - check out our case studies of gardens, homes and community spaces that we've worked on.