We work with a range of people to design resilient and regenerative landscapes and provide top notch workshops to get people living the good life.
Our core team
Hannah Moloney is our lead landscape designer, permaculture educator, best-selling author and change maker.
She has two decades of hands-on experience in designing, building, managing and doing projects around urban agriculture, small-scale farming, permaculture and community development – all towards building climate resilience. In 2015 Hannah was awarded the Tasmanian 'Young Landcare Leader Award' for her work with Good Life Permaculture and co-establishing Hobart City Farm (since closed). She's been a guest presenter on ABC's Gardening Australia since 2019, was featured in the Women Of The Island project and is an ambassador for Community Gardens Australia. When she's not working on other people's gardens and farms, she's working on her own and designing educational tea towels.
.
.
Anton Vikstrom  is an Environmental Scientist and sustainability specialist with 20 years experience in urban agriculture, renewable energy and energy efficiency.  He has worked with nationally recognised not-for-profit organisations such as The Alternative Technology Association, Cultivating Community and Tasmania's very own Sustainable Living Tasmania.  In 2019, he co-founded The Good Car Company – Australia's first 100% electric car enterprise that sells second hand, quality cars from Japan. In addition to his deep professional experience he has a wealth of knowledge of practical sustainability from off-grid solar power, to fermenting food, building and brewing beer.
You can read more about Hannah and Anton here.  .
Designful architects
We collaborate with Jane Hilliard and her team of architects and building designers at Designful to design and build houses and landscapes that work together seamlessly to form the ultimate, integrated home.
Integrating your landscape design with your house design is the ideal approach to designing a home that is truly sustainable and reflective of your lifestyle and needs..
.
Some of our present and past members of our teaching teams…
Rosemary Morrow is the author of 'The Earth User's Guide to Permaculture' and 'The Earth User's Guide to Teaching Permaculture' and is also a co-founder of The Blue Mountains Permaculture Institute. For almost 40 years she has worked extensively with farmers and villagers in Africa, Central and South East Asia and Eastern Europe. We worked with Rosemary on one of our Permaculture Design Courses  and Permaculture Teacher Training and are big fans of this wonder woman.
.
James Da Costa is an avid beekeeping and co-founder and head farmer at the Hobart City Farm.  He has a background in permaculture design, community engagement and small scale food systems. James teaches on our Real Skills for Growing Food and Introduction to Small-Scale Beekeeping courses.
.
Nadia Danti is the head market gardener at Fat Pig Farm. She brings years of market gardening experience and has travelled the world working with some of the best growers out there to learn the skills she needed. Nadia teaches on our Real Skills for Growing Food courses.
.
Nick Towle is another local legend who is a regular teacher on our Permaculture Design Courses and is a passionate advocate for sustainability and permaculture and brings a diverse set of skills to the course including home-based sustainability practices and community economic systems. His most recent permaculture adventure has involved establishing the RESEED Trust,  a two acre urban property in the heart of Penguin (NW Tas) which is being developed into a permaculture demonstration site and sustainability education centre.
Dan Palmer is based in Castlemaine, Vistoria and is co-director for Very Edible Gardens. He also has a long and fruitful history which includes being co-founder of the permablitz movement, regularly contributing to permaculture and organic gardening publications and courses in Australia and New Zealand. We're always hassling Dan to work with us, so far this has included running the inaugural Advanced Permaculture Design workshop and Holistic Decision Management courses.
.
Penny Milburn has been a qualified teacher of Accredited Permaculture Training with The National Environment Centre since 2012, with students across Australia and in countries such as Italy, Samoa and Japan. Penny has a wealth of teaching and hands on experience, currently maintaining a productive15 acre permaculture property in the Huon Valley. Penny teaches on our Permaculture Design Courses..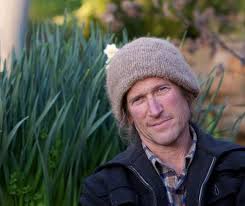 David Holmgren is co-founder of Permaculture, need we say any more?
While he resides in Hepburn Springs, Victoria, we bring David down to teach on our Permaculture Design Courses when he's available.
.
Tim Barker is an internationally renowned alternative technology expert. Based in QLD, Tim currently teaches appropriate technology for the Koanga institute in New Zealand and was previously farm manager at the Permaculture Research Institute for two years.  His rocket stove and biochar making powered hot water systems, ovens and cookers reflect his passion for elegant simple and durable combustion technologies..
.
Jean-Martin Fortier hails from Quebec, Canada where he and his wife, Maude-Hélène Desroches, run an internationally recognized 10-acre micro-farm, Les Jardins de la Grelinette.  He graced us with his presence in 2016 for a one day market gardening masterclass, it was awesome and we hope he comes back.