As we come to the end of another year and start bracing ourselves for the next one (in a good way) we breath out a little bit and reflect on 2015 to remind ourselves that things got done, fun was had and challenges were worked through. Here are some highlights for you, and us…
Taking ourselves back to March, we got to go to the Australasian Permaculture Convergence in Penguin, NW Tasmania to catch up with old and new friends, do a little talk and stretch our brains a bit. Directly after this we worked with Dan Palmer from Very Edible Gardens to host an Advanced Permaculture Design course which was a bit life changing – you can see a snippet of it here.
Students from our Advanced Permaculture Design course
Permaculture maven, Rosemary Morrow worked with us on our Permaculture Design Course *and* a Permaculture Teacher Training course (she's a dynamo that woman). Meanwhile Tim Barker ran a rocket Powered Shower workshop at the same time – it was a couple of months of legends in and out of our lives – we respect and love all these talented people very much.
Tim Barker and Rosemary Morrow in the house!
In mid Winter, we worked with Milkwood Permaculture in Sydney to teach one of their Permaculture Design Courses. Back home in Tassie we ran a series of other great workshops over some months, including beekeeping, how to grow mushrooms, fermenting food, introduction to permaculture and real skills for growing food.
Milkwood Permaculture Design course in Sydney
    Beekeeping workshop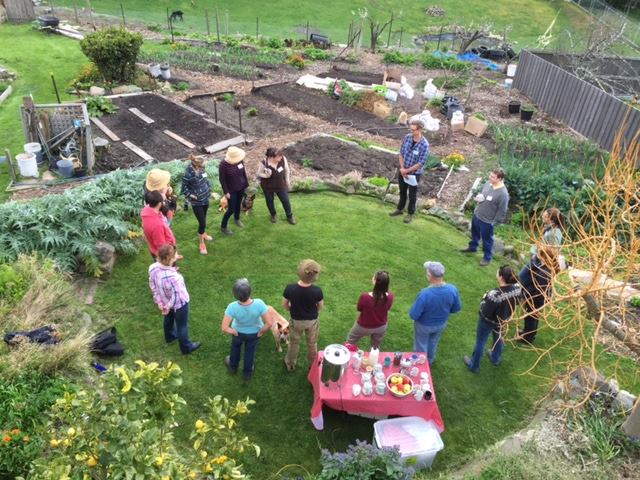 Real skills for growing food workshop
Our fermentation fest students with their kimchi – so proud of themselves!
A project separate to Good Life that Hannah is deeply involved in is the Hobart City Farm – which is pretty much one of the best places in the world. Two years in the making, we broke ground in early 2015 on just under 1/2 an acre of grass – we've just harvested over 500kgs of garlic and have lots of diverse summer crops coming on.
Louise, Bridget and James rocking the garlic patch
A complete surprise was when Hannah was awarded the 2015 Tasmanian Young Landcare Leader award which was incredibly humbling and heart warming. We love that permaculture is recognised in this field and have so much respect for the Landcare mob and the work they do.
Another exciting development that happened this year are our educational tea towels which we're having so much fun with. We currently have three types (about chooks, bees and fruit trees) and more coming early next year. We've set up an online shop so you can get your hands on these beauties anytime.
In and around everything, we've also completed around 30 permaculture designs for a range of truly wonderful people working on creating good lives for themselves. Working with people in this space is so inspiring, helping people's dreams become reality is really, really cool.
And back at our little homestead, things are growing and developing with more big dreams being hatched for next year, which we'll tell you about another day. The bottom line is we love our home, its increasing productivity and beauty – so much goodness and greatness can be created on small pieces of land!
But perhaps the biggest, most life changing 'thing' happened on January 8th, when we added a new member to Team Good Life, Frida Maria.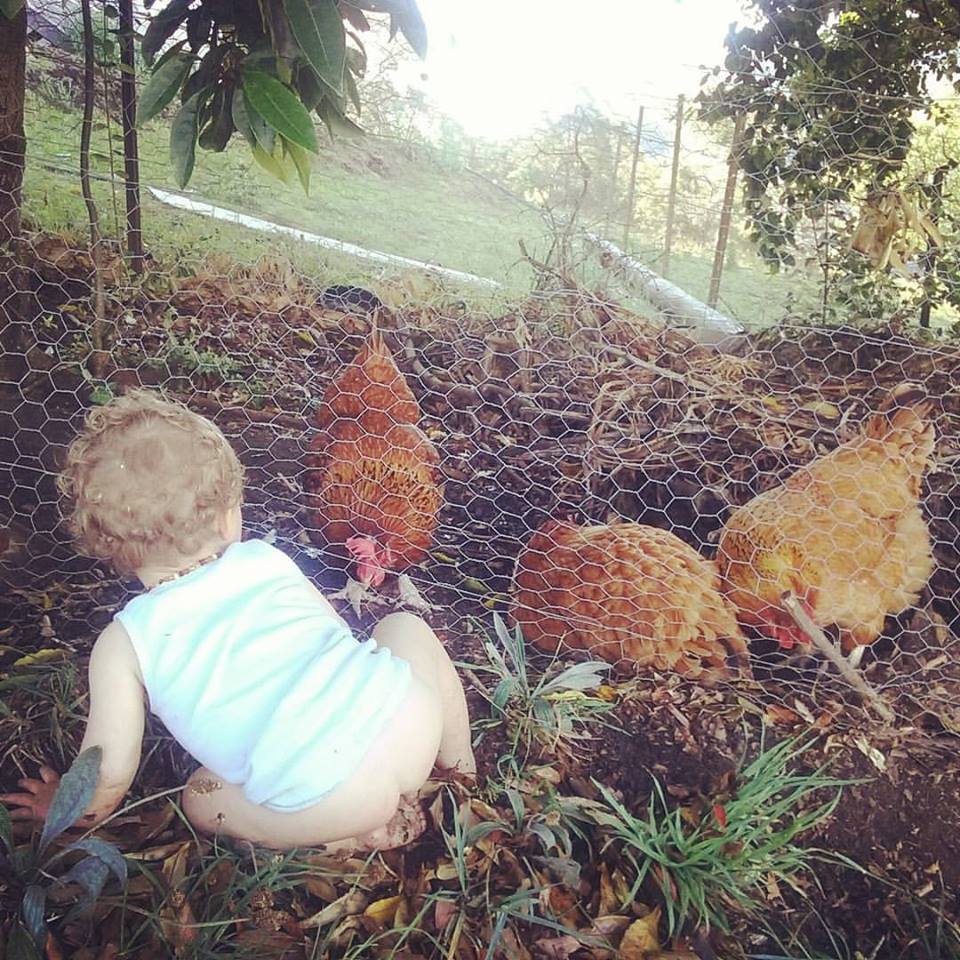 She's growing as fast as the hop vines in our orchard and currently likes to spend her time chasing the ducks, talking to the chooks, climbing rock walls, eating *all* the berries and wrestling, for which we are forever grateful – we love a good wrestle.
And next year? We're going to do it all again in its own unique way. We've got a stack load of courses lined up for y'all and lots of dreams and schemes! We're going to try and prepare for the challenges we don't know about yet, savor the wins and be graceful in the stuff that doesn't work. We'll continue to get excited about life, try and do everything, over commit and then be kind to ourselves as we find our way through it all. Life is big, hard, beautiful, never the same and we just try and remember we are fortunate, *crazy fortunate* and to embrace the ordinary because, when you think about it, it's pretty darn wonderful being ordinary.
Thanks for your ongoing greatness towards us and happy festive season, may your loved ones be close enough to hug.
1 Comment